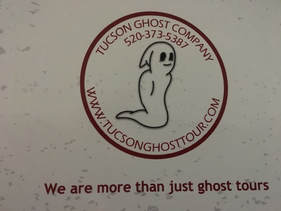 Tucson Ghost Company, LLC is locally owned and operated.
We are more than just ghost tours!
Tucson Ghost Company, LLC. tours are for
entertainment purposes only
--
-even though the stories we have been told are true to our acknowledgement & we have had personal experiences at some locations. We build the experience for educational and entertainment value.
Scroll down for Office and Tour hours!
TOURS/HUNTS:
We have:
Tucson Ghost Tour,
which is a walking tour of downtown Tucson.
Tucson Ghost Experience
, which is a ghost hunting experience at La Cocina.
Tucson Haunts
, which is a driving tour.
We are always looking to add new tours and special events, so keep checking backPlease note waivers must be signed before the tours.

Where to meet and check in times are listed on each tours page. The tour starts exactly at start time, check in times are always 15 mins prior to the tours.
Click on the pages of which ghostly adventure you would like to take to find out more about each adventure.
Each link will provide details of where to meet and what to expect.
Please Note: Each of our tours, hunts, and/or special events require at least 24 hours in advance reservation.
*Cancellations
must be done 72 hours in advance to receive full refund, 48 hours in advance for partial refund, any cancellations made within 24 hours of the tour will NOT be refunded.
Only tour cost will be refunded, not the sites fee or tax.
SPECIAL EVENTS
will have different refund policies.
​
Special Events:
Check out our special event page for more information on the events listed below.
Sept 28= National Ghost Hunting day-join us for the worlds largest ghost hunt-more details coming soon
​
Radio show:
Becky and Will also do a radio show called
Mysteries Explained.
They talk about everything from the paranormal, to horror, to so much more and have special guest every week; join them to find out information and to have some laughs.
You can listen to Mysteries Explained Live every Tuesday at 9pm eastern on spreaker at spreaker.com/user/tucsonghostcompany
Be sure to like our facebook page for updates on special guest and to follow us on Spreaker!
you can also find us on Spotify.
Writing:
Becky is also in works on her first novel, Haunted Tucson, due out in Oct 2020.
The Tucson Ghost Company, LLC is for entertainment purposes only, although we do try to educate also. The company's email is tucsonghostco@hotmail.com
Paranormal Team:
Tucson Ghost Society
is a very professional non-profit team that utilizes DVRs, recorders, EMF readers & more to try to figure out the cause of the clients paranormal concern. We don't go off of feelings, we go off of evidence! We DO NOT use psychics or mediums on our team, we are more of a 'scientific' team and look to find human causes before calling it paranormal!
We do residential and business cases. We have helped well over 100 clients and have worked with well known locations. We are fully insured, one of the few paranormal teams that are, we truly have a goal of protecting our team and our clients.
Sorry but we will not give "blind" advice and we will not allow people to come on investigation with us.
Mission Statement:
Tucson Ghost Society is a non-profit organization that was formed to help people in need of paranormal concerns and to contribute true paranormal evidence to the field. We will always provide true clear findings and represent the field in a true manner.
Core Beliefs:
Our Core Beliefs: We believe that not all haunting's are paranormal, that most cases can be debunked. We believe that demonic haunting's are rare and few in between. We believe in only presenting true scientific evidence to the clients and the paranormal field. (We will not use psychics on our investigations due to this.) We believe in never giving blind advice to anyone, that an investigation is needed to know the true cause of the possible haunting. We are open-minded skeptics.​

Find out more about TGS by clicking the Tucson Ghost Society page.

​To contact the Tucson Ghost Society:
You can call (520) 373-5387 or email
tucsonghostsociety@outlook.com
It will always be Mayela, Jen, Becky, or Will dealing with residential cases.
Then the other team members (click on TGS page to see all team members) maybe contacting businesses but they Will ALWAYS, give the information above out. If you ever get any other information please let us know.
Please Note: Even if you do not use Tucson Ghost Society for your paranormal concerns, we encourage you to do the research with what ever team you choose. There is no certification or qualifications to be a paranormal investigator and some will take advantage of their clients or not communicate with clients properly. NEVER pay for a paranormal investigation. The only times you should be asked to pay something is if you are wanting psychics, mediums, or tarot card readers; then you will most likely be charged. Again, we encourage you to do the research on the person who decide to use.
Please note that a client intake form will be emailed and needs to be filled out before the investigation and a waiver will need to be signed when we investigate.
Guest Speaking and more:
Need a speaker at your event? Or want someone to come tell ghost stories to your group?
We can do that too; the owner of Tucson Ghost Company and founders/lead investigators of Tucson Ghost Society, Becky & Will are radio personalities, have been on panels, interviewed for several radio stations, books, newspapers and have been interviewed on camera even. Just contact us with more information about the event you want to hold. We can even have the whole team come along if you like!
The Tucson Ghost Society is a non-profit paranormal team that is scientific in our methods. We encourage everyone with paranormal concerns to check out the team you are allowing in your house and to never pay for an investigation. The team's email is tucsonghostsociety@outlook.com
​
Social Media and YouTube:
On Facebook find us under: Tucson Ghost Company, LLC
Tucson Ghost Society
Mysteries Explained
On Twitter find us under: @mysteriesradio
On YouTube find us under: Tucson Ghost Company
Any other questions, comments, concerns, or if having reservation problems you may contact us by:
Email: tucsonghostco@hotmail.com or
Call or text: (520) 373-5387
Office and Tour Hours
PLEASE NOTE OUR OFFICE WILL BE CLOSED FROM JUNE 1-9. ANY CALLS, TEXT, OR EMAILS RECEIVED DURING OUR CLOSED DAYS/HOURS WILL BE RETURNED THE NEXT BUSINESS DAY THAT WE ARE OPEN.
We are also closed on ALL holidays!
We encourage all callers to leave a message or text or email if the phones are not answered. Any calls, text, or emails received during business hours, will be returned the same business day. Any calls, text, or emails received after business hours will be returned on the next open business day.
(Please note Tucson Ghost Society has the same office hours as the company).
Office Hours:
Monday= 9am-5pm
Tuesday= 9am-4pm
Wednesday= 9am-5pm
Thursday= 9am-5pm
Friday= 9am-5pm
Saturday= 9am-11am
Sunday= closed

Tour Hours during off season (December till the middle of September) Please note tours are scheduled to change.
Monday= ghost experience only-every other Monday-7pm-9pm
Tuesday= no tours (due to radio show)
Wednesday= no tours
Thursday= 7pm-9pm (tours are only offered for larger groups only on Thursday
Friday= 7pm-9pm
Saturday= 6pm-9pm or 7pm-9pm (depending on which tour is running)
Sunday= no tours
​
Tour hours for the busy season (middle of September till November) Please note tours are scheduled to change
Monday= ghost experience only- 7pm-9pm
Tuesday= no tours (due to radio show)
Wednesday= 7pm-9pm
Thursday= 7pm-9pm
Friday= 7pm-9pm
Saturday= 6pm-9pm or 7pm-9pm (depending on which tour is running)
Sunday= no tours
Tucson Ghost Society usually conducts investigations on Friday or Saturday nights from roughly 7pm till midnight.
Please note Office hours and tour hours may change at any given time. We are just a small local family business, so when we are unavailable we have no one to answer the calls or do the tours.
---
---
For more information or any questions you may contact us by calling or texting (520) 373-5387 or by emailing tucsonghostco@hotmail.com
---